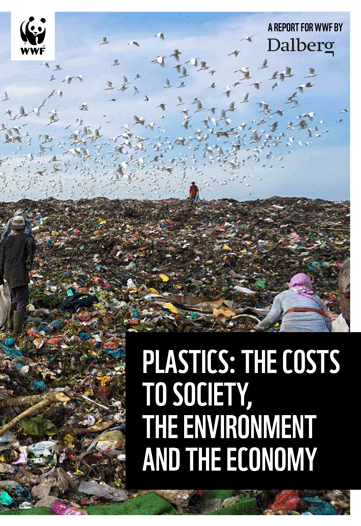 The BeMed Business Club organises its work around two axes: the science-industry dialogue to collectively increase skills on technical subjects, and pilot projects to carry out actions in the field, with a concrete impact.
For the first time, on 8 November, the Business Club opened its science-industry dialogue space to its members' networks and to stakeholders interested in the subject of the cost of plastic pollution. This was an opportunity to raise awareness of the Business Club and the type of exchanges it allows.
This session was attended by Giorgio Bagordo, Senior plastic program expert at WWF Italy and Mateo Cordier, lecturer in economics at the University of Versailles-St-Quentin-en-Yvelines.
Giorgio Bagordo began by recalling the omnipresence of plastic: 90% of living species are in contact with this material! He then presented the hidden costs of plastic, those that we do not necessarily think about and that are not reflected in the market price, such as environmental or health costs. In total, the real cost of plastic, taking into account its entire life cycle and its externalities, would therefore be 10 times higher than its production cost. It should be noted that 91% of the emissions linked to the life cycle of plastic occur during its production, representing costs even before it is used and becomes waste…
Mateo Cordier then presented the results of his research on technological innovation as a solution to plastic pollution. From preventive to curative measures, 25 solutions were categorised and modelled in 4 types of scenarios with varying levels of ambition. The results quantitatively confirm that curative technological solutions alone will not be sufficient to solve plastic pollution problems.
For example, to return to a level of 15-50% below the 2010 level of plastic debris in the sea by 2030, it would be necessary to invest between €491 and €809 billion in "cleaning up the ocean" (i.e. between 0.7 and 1.1% of global GDP in 2017). According to the authors of the study, it would be more relevant from an environmental, economic and political point of view to combine solutions to combat the source with these curative measures. At the international level, the development of a plastics treaty is in line with these conclusions.
In total, more than 60 people, half of them from outside the Business Club, benefited from the exchanges with this pair of expert speakers.