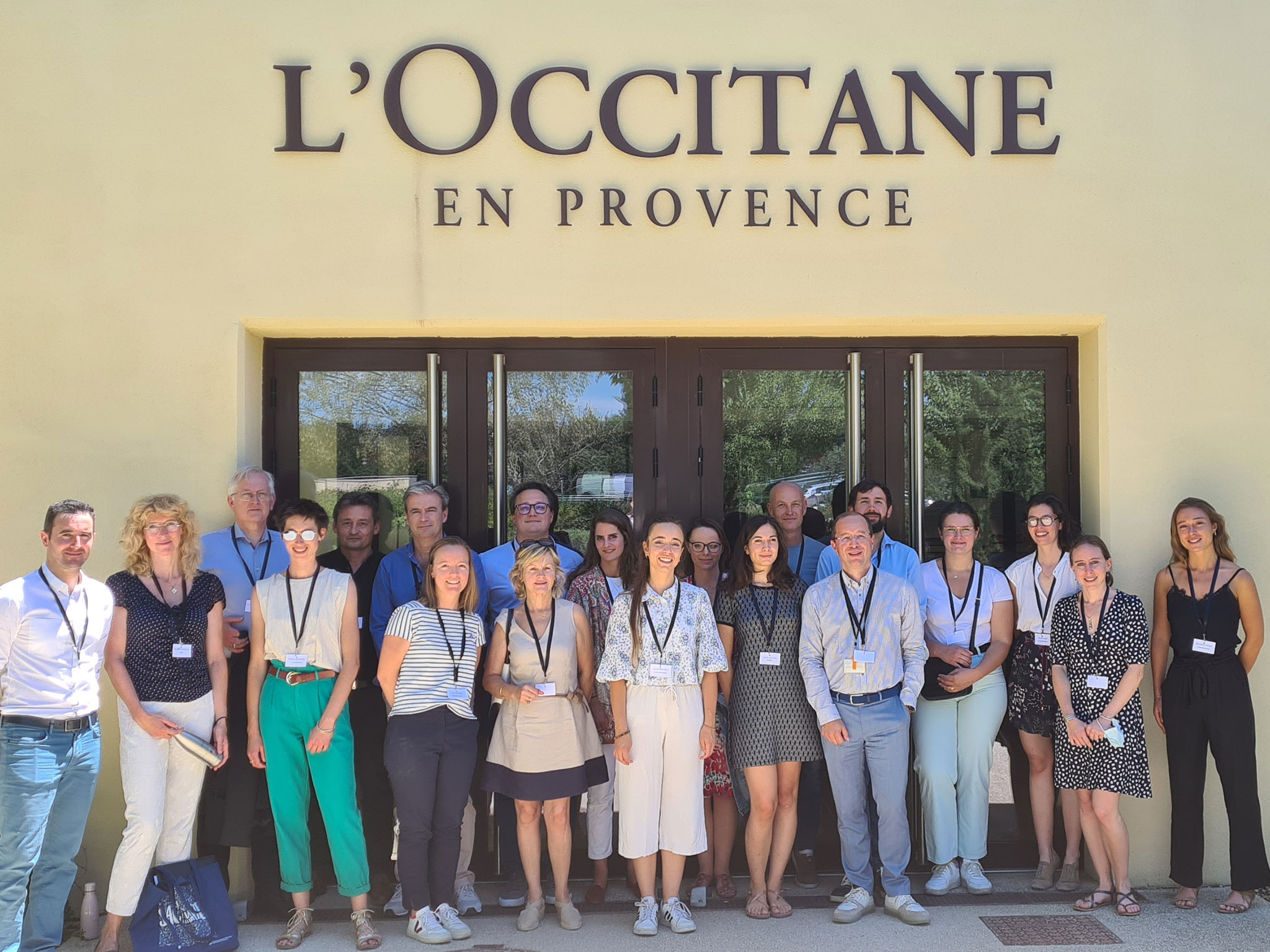 After six months of remote work, it was time for the members of the BeMed Business Club to meet again for a workshop on July 6 and 7. While the previous edition took place in December 2021 in Paris, this summer edition took place in the Alpes de Haute-Provence, where the representatives of L'Occitane en Provence welcomed about twenty participants at their factory in Manosque.
Before diving into the program of workshops related to the work in progress, a flash concept on the "rebound effect" presented by Jean-Marc Meurville allowed to set the scene and to discuss a wider environmental subject than plastic : the increase of a resource use due to the improvement of its energy efficiency.
The Business Club was then able to rediscuss one of the eco-design projects underway in the Science-Industry Dialogue axis : the small, flexible, multi-material bag distributed or sold in very large quantities. After a roundtable discussion outlining the progress, participants shared their failed attempts to change the material they use. To learn more about the case study, please read the dedicated article.
As for the pilot project "Towards a zero single use plastic hotel", the alternatives testing phase has begun at the InterContinental Marseille – Hotel Dieu, and will last until the end of September. The members of the Club were able to discover the first very encouraging feedbacks from customers and staff, learned more about some alternatives and communication materials, and asked questions to the hotel representatives. The pilot project will be adapted for the 5* hotel La Badira in Hammamet, which participated remotely and presented its approach and its plastic issues. To learn more about this pilot project or about the hotel La Badira, do not hesitate to click on the links.
To conclude the day, a collaborative workshop allowed participants to (re)think in small groups about the strategic orientations of the BeMed Business Club. During 1h30, the participants tried to identify weaknesses and found solutions before they become too problematic. The results of this workshop will be integrated into the annual strategic analysis, aimed at taking a step back to define the objectives of recruiting new companies and readjusting the Business Club's activities according to the needs.
Beyond the debates and technical discussions, these meetings offer the opportunity to share friendly moments during coffee breaks, catering time, but also thematic visits. The visit of L'Occitane en Provence's factory allowed to (re)discover the manufacturing steps of a cosmetic product, and to observe the different development stages and packaging characteristics. The visit of the Veolia sorting center was an opportunity to discuss the challenges of recycling today and tomorrow, and to follow the sorting process of waste, thanks to the explanations from Nicolas Pont, Director of Recycling and Ecodesign at Veolia.